Biotechnological Optics Research Team
Team Leader
Atsushi Miyawaki
M.D., Ph.D.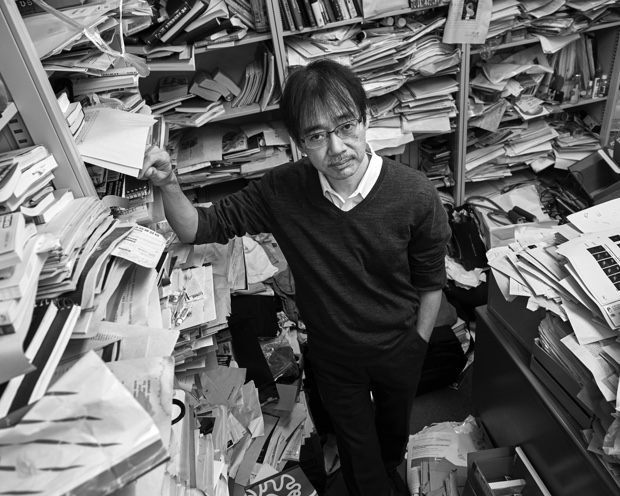 Contact
Access map

miyawaki-lab.ast [at] ml.riken.jp
Biotechnological Optics Research Team,
RIKEN Center for Advanced Photonics
2-1 Hirosawa, Wako, Saitama 351-0198 Japan
Related links
Laboratory Website
Biotechnological Optics Research Team

Laboratory on RIKEN Website
Biotechnological Optics Research Team | RIKEN

Outline
We label a fluorescent probe on a specific region of a biological molecule and bring it back into a cell. We can then visualize how the biological molecule behaves in response to external stimulation. Since fluorescence is a physical phenomenon, we can extract various kinds of information by making full use of its characteristics. For example, the excited energy of a fluorescent molecule donor transfers to an acceptor relative to the distance and orientation between the two fluorophores. This phenomenon can be used to identify interaction between biological molecules or structural change in biological molecules. Besides, we can apply all other characteristics of fluorescence, such as polarization, quenching, photobleaching, photoconversion, and photochromism, in experimentation. Cruising inside cells in a super-micro corps, gliding down in a microtubule like a roller coaster, pushing our ways through a jungle of chromatin while hoisting a flag of nuclear localization signal --- we are reminded to retain a playful and adventurous perspective at all times. What matters is mobilizing all capabilities of science and giving full play to our imagination.
Fields
Medicine, dentistry, and pharmacy, Engineering, Biological Sciences, Biology / Biochemistry
Keywords
Bio-imaging, Fluorescence protein, Chromophore group
Subjects
Structure-function relationships of fluorescent protein chromophores
Interplay between ambient light and organisms
Ultra-fast observation of swimming behavior of micro-organisms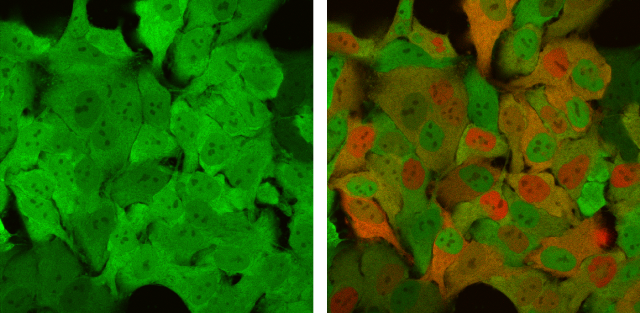 Cultured HeLa cells expressing the photoconvertible fluorescent protein, Keade. Before (left) and after (right) multiple, local irradiation of violet laser light, green-to-red color conversion occurred in the cytosol or nucleus of targeted cells.
Selected Publications
Michikawa, T., Yoshida, T., Kuroki, S., Ishikawa, T., Kakei, S., Kimizuka, R., Saito, A., Yokota, H., Shimizu, A., Itohara, S., and Miyawaki, A.: "Distributed sensory coding by cerebellar complex spikes in units of cortical segments" , Cell Rep.37(6), 109966 (2021).
Katayama, H., Hama, H., Nagasawa, K., Kurokawa, H., Sugiyama, M., Ando, R., Funata, M., Yoshida, N., Homma, M., Nishimura, T., Takahashi, M., Ishida, Y., Hioki, H., Tsujihata, Y., Miyawaki A.: "Visualizing and Modulating Mitophagy for Therapeutic Studies of Neurodegeneration", Cell 181(5), 1176-1187 (2020).
Iwano, S., Sugiyama, M., Hama, H., Watakabe, A., Hasegawa, N., Kuchimaru, T., Tanaka, KZ., Takahashi, M., Ishida, Y., Hata, J., Shimozono, S., Namiki, K., Fukano, T., Kiyama, M., Okano, H., Kizaka-Kondoh, S., McHugh, TJ., Yamamori, T., Hioki, H., Maki, S., Miyawaki, A.: "Single-cell bioluminescence imaging of deep tissue in freely moving animals" , Science 359 (6378), 935-939 (2018).
Sakaue-Sawano, A., Yo, M., Komatsu, N., Hiratsuka, T., Kogure, T., Hoshida, T., Goshima, N., Matsuda, M., Miyawaki, A.: "Genetically encoded tools for optical dissection of the mammalian cell cycle", Mol. Cell 68, 626-640 (2017).
Hama, H., Hioki, H., Namiki, K., Hoshida, T., Kurokawa, H., Ishidate, F., Kaneko, T., Akagi, T., Saito, T., Saido, T., Miyawaki, A.: "ScaleS: an optical clearing palette for biological imaging" , Nat. Neurosci. 18(10), 1518-1529 (2015).
Members
| | |
| --- | --- |
| Atsushi Miyawaki | Team Leader |
| Masahiko Hirano | Research Scientist |
| Asako Tosaki | Technical Staff Ⅱ |