Advanced Manufacturing Support Team
Team Leader
Yutaka Yamagata
D.Eng.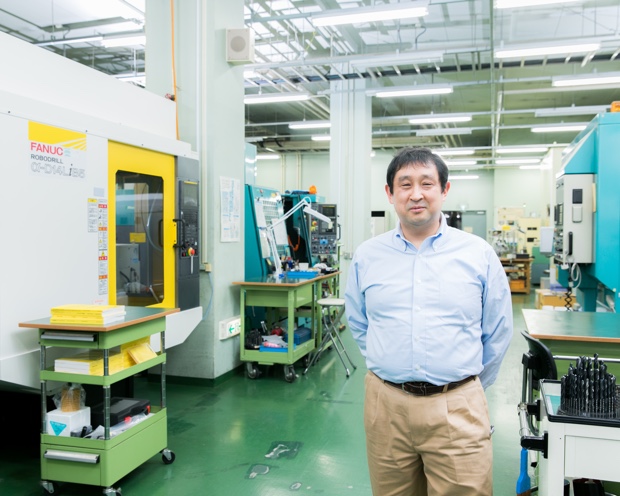 Contact
Access map

yamagata [at] riken.jp
Advanced Manufacturing Support Team,
RIKEN Center for Advanced Photonics
2-1 Hirosawa, Wako, Saitama 351-0198 Japan
Related links
Laboratory on RIKEN Website
Advanced Manufacturing Support Team | RIKEN

Outline
It is inevitably required to devise and/or maintain variety of advanced research instruments and equipments to promote and support laboratories for wide ranges of research fields from fundamental to practical phases. The main duty of our team is to develop those instruments required by researchers, and also this duty should be conducted consequently from concept design to manufacture through detailed design and instrumentation. Our team also deals with improvement and maintenance of working scientific experimental equipments. For these purposes, we are constantly making efforts to improve our design, manufacturing and engineering capabilities for rapid services.
Fields
Engineering, Interdisciplinary science and engineering
Keywords
Production technology, mechanical machining, laser machining, CAD/CAM/CAE, 3D printer
Subjects
Design, manufacturing, modification and development of experimental apparatuses
Facility management of the machine shop and technical assistance for project
Advanced manufacturing development and support such as 3D printer or ultraprecision machining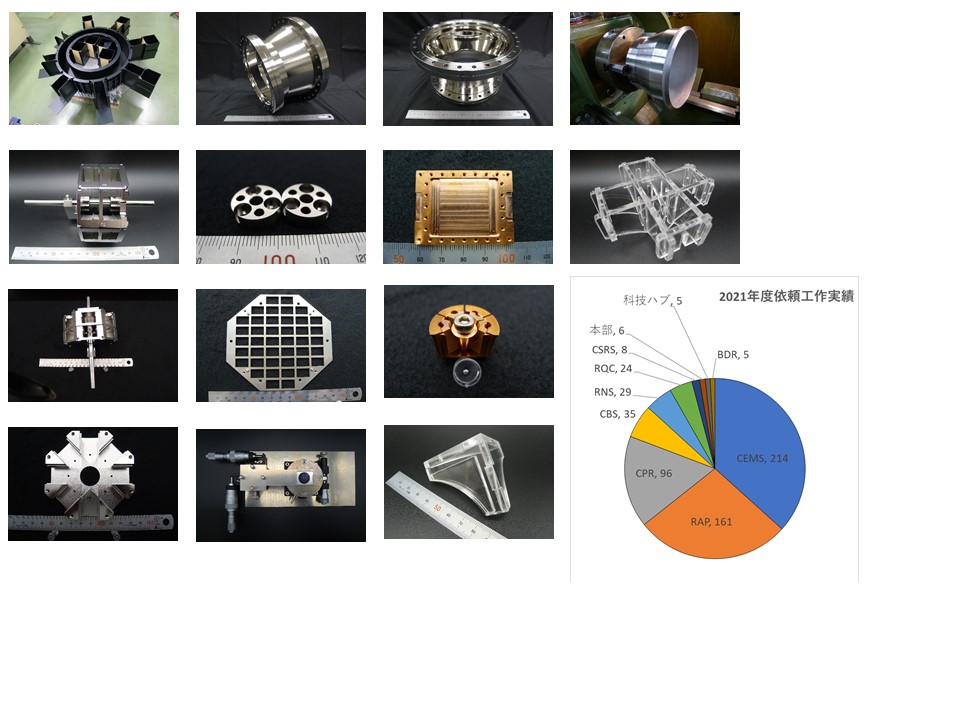 Examples of manufactured components for scientific apparatuses and number of requests in FY2021
Selected Publications
Heacock, B., Fujiie, T., Haun, W.R.,.Henins, A., Hirota, K., Hosobata, T., Huber, M.G., Kitaguchi, M., Pushin, D.A., Shimizu, H., Takeda, M., Valdillez, R., Yamagata, Y., and Young, A.R.:"Pendellosung interferometry probes the neutron charge radius, lattice dynamics, and fifth forces", Science 373, 1239-1243 (2021).
Teshima, Y., Hosoya, Y., Sakai, K., Nakano, T., Tanaka, A., Aomatsu, T., Yamazawa, k., Ikegami, Y., and Watanabe, Y.: "Development of Tactile Globe by Additive Manufacturing" , Springer LNCS 12376, 419-426 (2020).
Yamazawa, K., Teshima, Y., Watanabe, Y., Ikegami, Y., Fujiyoshi, M., Oouchi, S., Kaneko, T.: "Three-Dimensional Model Fabricated by Layere Manufacturing for Visually Handicapped Persons to Trace Heart Shape" , Springer, LNCS 7383, 505-508, (2012).
Oouchi, S., Yamazawa, K., Secchi, L.: "Reproduction of Tactile Paintings for Visual Impairments Utilized Three-Dimensional Modeling System and the Effect of Difference in the Painting Size on Tactile Perception", Springer, LNCS 6180, 527-533, (2010).
Yamazawa, K., Hashizume, D., Nakao, A., Anzai, M., Narahara, H., Suzuki, H.: "Proposal for Artificial Bone Formation using Powder-layered Manufacturing: Surface and Internal Chemical Composition of Formed Artificial Bone" , Transactions of the Japanese Society for Medical and Biological Engineering, Vol.47 No. 4, 359-365, (2009).
Members
| | |
| --- | --- |
| Yutaka Yamagata | Team Leader |
| Kenji Yamazawa | Deputy Team Leader |
| Shigeru Ikeda | Senior Research Scientist |
| Takeshi Fujimoto | Expert Technician |
| Masahiro Takeda | Technical Staff Ⅰ |
| Masaharu Watanuki | Technical Staff Ⅰ |
| Ichiro Takahashi | Special Temporary Technical Scientist |
| Susumu Shimoda | Special Temporary Technical Scientist |