Image Processing Research Team
Team Leader
Hideo Yokota
D.Eng.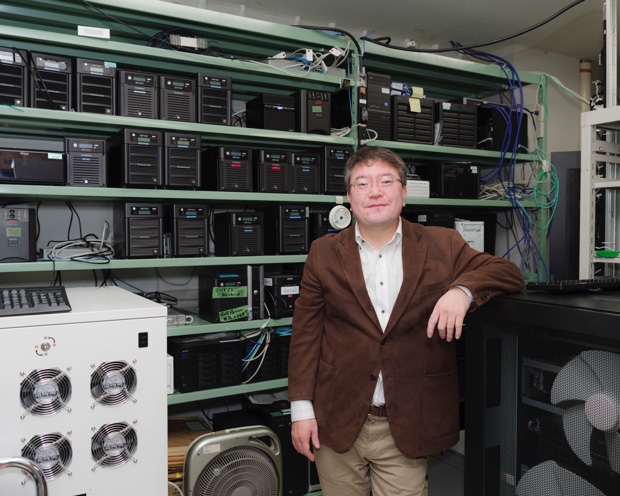 Contact
Access map

brict [at] riken.jp
Image Processing Research Team,
RIKEN Center for Advanced Photonics
2-1 Hirosawa, Wako, Saitama 351-0198 Japan
Related links
Laboratory Website
Image Processing Research Team

Laboratory on RIKEN Website
Image Processing Research Team | RIKEN

Outline
Our goal is to develop original RIKEN data processing technology and multidimensional measurement technology in order to contribute to understanding biological phenomena. We are especially contributing to the fields of mathematical biology, bio-medical simulations as well as medical diagnostic and treatment technology by researching and developing new data and image processing technologies and establishing new tools for quantification of biological phenomena, intended for researchers both inside and outside RIKEN.
Fields
Engineering, Informatics, Computer Science
Keywords
Multi dimensional image processing, Multi dimensional imaging, Bioengineering, Image analysis, Medical engineering
Subjects
Development of algorithms for image processing
Development of image processing systems
Construction of instrumentation system for bio-research data creation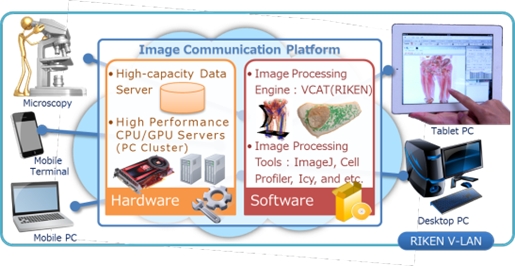 Image Processing Cloud
Selected Publications
Takemoto, S., Hori, K., Yoshimasa, S., Nishimura, M., Nakajo, K., Inaba, A., Sasabe, M., Aoyama, N., Watanabe, T., Minakata, T., Ikematsu, H., Yokota, H., Yano, T.: "Computer-aided demarcation of early gastric cancer: a pilot comparative study with ndoscopists" , Journal of Gastroenterology (2023).
Umebayashi, M., Takemoto, S., Reymond, L., Sundukova, M., Hovius, R., Bucci, A., Heppenstall, P.A., Yokota, H., Johnsson, K., Riezman, H.: "A covalently-linked probe to monitor local membrane properties surrounding plasma membrane proteins" , Journal of Cell Biology, 222(3):e202206119 (2023).
Ando, N., Kono, T., Ogihara, N., Nakamura, S., Yokota, H., Kanzaki, R.: "Modeling the musculoskeletal system of an insect thorax for flapping flight" , Bioinspiration & Biomimetics.17,6. (2022).
Furukawa, T., Oyama, S., Yokota, H., Kondoh, Y., Kataoka, K., Johkoh, T.: "A comprehensible machine learning tool to differentially diagnose idiopathic pulmonary fibrosis from other chronic interstitial lung diseases" , Respirology, (2022).
Fukatsu, M., Yoshizawa, S., Takemura, H., and Yokota, H.: "Adaptive and Dynamic Regularization for Rolling Guidance Image Filtering" , Proc. of Pacific Graphics Short Papers, Posters, and Work-in-Progress Papers, pp. 43-48, Eurographics Digital Library, (2022).
Members
| | |
| --- | --- |
| Hideo Yokota | Team Leader |
| Shin Yoshizawa | Senior Scientist |
| Satoshi Oota | Special Temporary Research Scientist |
| Shigeho Noda | Senior Scientist |
| Takashi Michikawa | Senior Scientist |
| Satoko Takemoto | Research Scientist |
| Norio Yamashita | Research Scientist |
| Sakiko Nakamura | Technical StaffⅠ |
| Yuki Tsujimura | Technical StaffⅠ |
| Masaomi Nishimura | Technical StaffⅠ |
| Xianping Zhang | JRA |
| Takashi Uematsu | JRA |
| Hidekazu Takahashi | JRA |
| Shuning Han | JRA |