Image Processing Research Team
Team Leader
Hideo Yokota
D.Eng.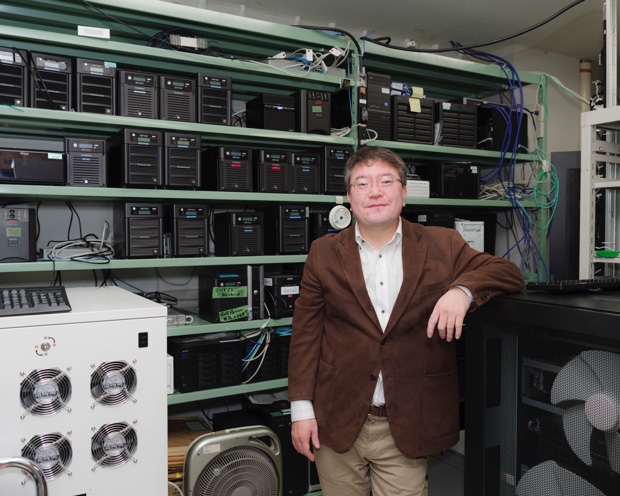 brict [at] riken.jp
Image Processing Research Team,
RIKEN Center for Advanced Photonics
2-1 Hirosawa, Wako, Saitama 351-0198 Japan

Laboratory Website
Image Processing Research Team
Laboratory on RIKEN Website
Image Processing Research Team | RIKEN
Outline
Our goal is to develop original RIKEN data processing technology and multidimensional measurement technology in order to contribute to understanding biological phenomena. We are especially contributing to the fields of mathematical biology, bio-medical simulations as well as medical diagnostic and treatment technology by researching and developing new data and image processing technologies and establishing new tools for quantification of biological phenomena, intended for researchers both inside and outside RIKEN.
Fields
Engineering, Informatics
Keywords
Multi dimensional image processing, Multi dimensional imaging, Bioengineering, Image analysis, Medical engineering
Subjects
Algorithms and computational methods for image processing, pattern recognition, computer graphics, and computer aided design
Software and hardware systems for biology and material science
Imaging devices for life science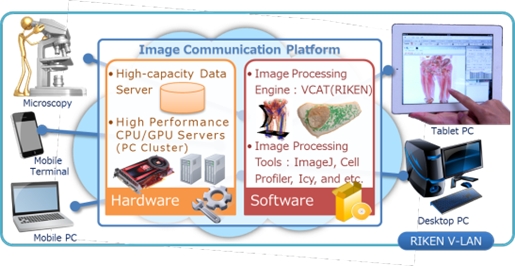 Image Processing Cloud
Selected Publications
Morita, M., Shimokawa, K., Nishimura, M., Nakamura, S., Tsujimura, Y., Takemoto, S., Tawara, T., Yokota, H., Wemler, S., Miyamoto, D., Ikeno, H., Sato, A., Furuichi, T., Kobayashi, N., Okumura, Y., Yamaguchi, Y., Okamura-Oho, Y.: "ViBrism DB: an interactive search and viewer platform for 2D/3D anatomical images of gene expression and co-expression networks", Nucleic Acids Research, gky951 (2018).
Togashi, R., Tanaka, H., Nakamura, S., Yokota, H., Tange, K., Nakai, Y., Yoshioka, H., Hatarhima, H., Akita, H.: "A hepatic pDNA delivery system based on an intracellular environment sensitive vitamin E-scaffold lipid-like material with the aid of an anti-inflammatory drug", Journal of Controlled Release, Vol. 279(10): 262-270 (2018).
An, G., Omodaka, K., Tsuda, S., Shiga, Y., Takada, N., Kikawa, T., Nakazawa, T., Yokota, H., Akiba, M.: "Comparison of Machine-Learning Classification Models for Glaucoma Management", Journal of Healthcare Engineering, Vol. 2018, Article ID 6874765 (2018).
Sakane, A., Yoshizawa, S., Yokota, H., Sasaki, T.: "Dancing Styles of Collective Cell Migration: Image-Based Computational Analysis of JRAB/MICAL-L2", Frontiers in Cell and Developmental Biology, Vol. 6, Article 4: 1-7 (2018).
Miyagawa, S., Yoshizawa, S., Yokota, H.: "Trimmed Median PCA for Robust Plane Fitting", Proceedings of IEEE International Conference on Image Processing, pp. 753-757 (2018).
Members
| | |
| --- | --- |
| Hideo Yokota | Team Leader |
| Shin Yoshizawa | Senior Scientist |
| Satoko Takemoto | Research Scientist |
| Takashi Michikawa | Research Scientist |
| Masahiko Morita | Postdoctoral Researcher |
| Norio Yamashita | Postdoctoral Researcher |
| Sakiko Nakamura | Technical StaffⅠ |
| Yuki Tsujimura | Technical StaffⅠ |
| Masaomi Nishimura | Technical StaffⅠ |
| Toshiro Higuchi | Senior Visiting Scientist |
| Kazuhiro Fujisaki | Visiting Scientist |
| Naomichi Furushiro | Visiting Scientist |
| Takashi Ijiri | Visiting Scientist |
| Shintaro Oyama | Visiting Scientist |
| Kazuaki Fukasaku | Visiting Scientist |