Image Processing Research Team
Team Leader
Hideo Yokota
D.Eng.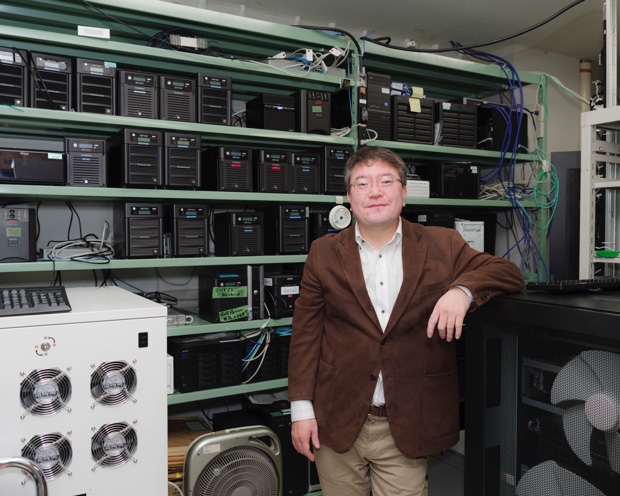 Contact
Access map

brict [at] riken.jp
Image Processing Research Team,
RIKEN Center for Advanced Photonics
2-1 Hirosawa, Wako, Saitama 351-0198 Japan
Related links
Laboratory Website
Image Processing Research Team

Laboratory on RIKEN Website
Image Processing Research Team | RIKEN

Outline
Our goal is to develop original RIKEN data processing technology and multidimensional measurement technology in order to contribute to understanding biological phenomena. We are especially contributing to the fields of mathematical biology, bio-medical simulations as well as medical diagnostic and treatment technology by researching and developing new data and image processing technologies and establishing new tools for quantification of biological phenomena, intended for researchers both inside and outside RIKEN.
Fields
Engineering, Informatics, Computer Science
Keywords
Multi dimensional image processing, Multi dimensional imaging, Bioengineering, Image analysis, Medical engineering
Subjects
Development of algorithms for image processing
Development of image processing systems
Construction of instrumentation system for bio-research data creation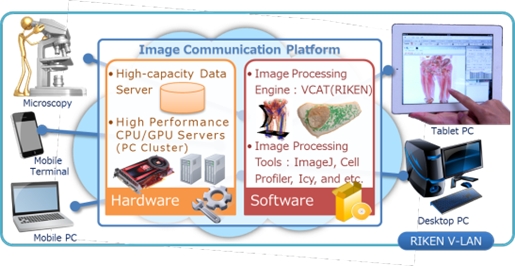 Image Processing Cloud
Selected Publications
Tamura, N., Goto, S., Yokota, H., and Goto, S.: "Contributing Role of Mitochondrial Energy Metabolism on Platelet Adhesion, Activation and Thrombus Formation under Blood Flow Conditions", Platelets 1-7 (2022).
Yamashita, N., Matsuno, T., Maeda, D., Kikuzuki, M., and Yokota, H.: "Efficient 3D observation of steel microstructure using serial sectioning with precision cutting and on-site etching" , Precision Engineering 75, pp.37-45 (2022).
Takematsu, M., Umezawa, M., Sera, T., Kitagawa, Y., Kurahashi, H., Yamada, S., Okubo, K., Kamimura, M., Yokota, H., and Soga, K.: "Influence of the difference in refractive index on the interface of an object and the surrounding in near-infrared fluorescence tomography" , Applied Optics (2021).
Michikawa,T., Yoshida, T., Kuroki, S., Ishikawa, T., Kakei, S., Kimizuka, R., Saito, A., Yokota, H., Shimizu, A., Itohara, S., and Miyawaki, A.: "Distributed sensory coding by cerebellar complex spikes in units of cortical segments" , Cell Reports 37,6, 109966 (2021).
Hori, K., Ikematsu, H., Yamamoto, Y., Matsuzaki, H., Takeshita, N., Shinmura, K., Yoda, Y., Kiuchi, T., Takemoto, S., Yokota, H., and Yano, T.: "Detecting colon polyps in endoscopic images using artificial intelligence constructed with automated collection of annotated images from an endoscopy reporting system" , Digestive Endoscopy (2021).
Members
| | |
| --- | --- |
| Hideo Yokota | Team Leader |
| Shin Yoshizawa | Senior Scientist |
| Satoshi Oota | Special Temporary Research Scientist |
| Shigeho Noda | Senior Scientist |
| Takashi Michikawa | Senior Scientist |
| Satoko Takemoto | Research Scientist |
| Masahiko Morita | Research Scientist |
| Norio Yamashita | Research Scientist |
| Zhe Sun | Research Scientist |
| Sakiko Nakamura | Technical StaffⅠ |
| Yuki Tsujimura | Technical StaffⅠ |
| Masaomi Nishimura | Technical StaffⅠ |
| Xianping Zhang | JRA |
| Hiroaki Iwase | JRA |
| Takashi Uematsu | JRA |